by ampmlimo, on Sep 4, 2020 10:59:58 AM
Hello Canmore! It's Calgary calling.
Calgarians' spend so much time out in your backyard, you are officially (ha-ha) invited to Calgary's backyard. For fun, relaxation, romance, sports, music, shopping, celebrating – you name it, we are here for you. And, you can do it in style.
A Canmore limousine rental is the best way to make your way into Calgary with friends or family or both! Book luxury transportation to tote you around and treat you to 'the life'.

AM PM has the largest fleet of luxury limousines, has been proud to serve Canmore for well over a decade. Yes, most of the time folks are going there from Calgary.
But when Canmore residents need us to be there for them, we are. With bells on.
Canmore Limousine Rentals for Every Occasion
It's always nice to spend time at home in Canmore and enjoy the serenity that's offered.
But, when the time comes when you need to 'get outta Dodge' and hit the road, a Canmore limousine rental can be the answer with AM PM. With award-winning customer service, knowledgable drivers, and the newest and largest fleet, we can help. Whether you are staying put or heading out, AM PM Limousine Service will get you where you need to go in style!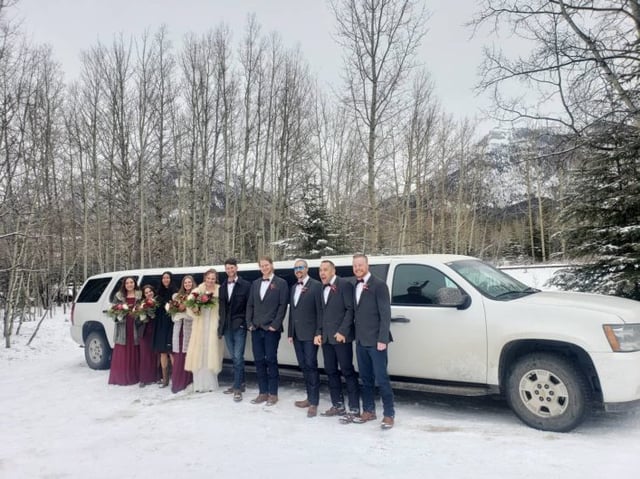 How Much Does a Canmore Limousine Rental Cost?
Often times when you book a limousine or party bus for events such as bachelor and bachelorette parties or celebrating a special birthday, the cost is split between passengers.
Prices range on average between $25 and $30 per person.
When multiple hours are booked for events such as weddings, graduations, pub crawls, the prices are even lower. Call or email us with what you are looking to do and we can provide you with a quote!
Is Alcohol permitted in limousines within Alberta?
Picture identification for proof of legal age is required when alcohol is involved.
Canmore Transportation Services with AM PM Limo
With the creative invention of SUV and Pick-up truck limousines, (think all the luxury of a limo, in an SUV or truck), gives you options for having service to suit your needs.
Cement those romantic feelings as nothing beats picking up that special person in your life in a stretch luxury limousine, fully prepared and ready for action.
Airport transfers are available from Canmore to YYC and returns, for business and/or pleasure.
For larger groups, there are larger limousine rentals. For a girl's night out, stags and stagettes, weddings, graduations, sporting events, theme parties, or any special events, you choose the style and size that'll fit best with your plans.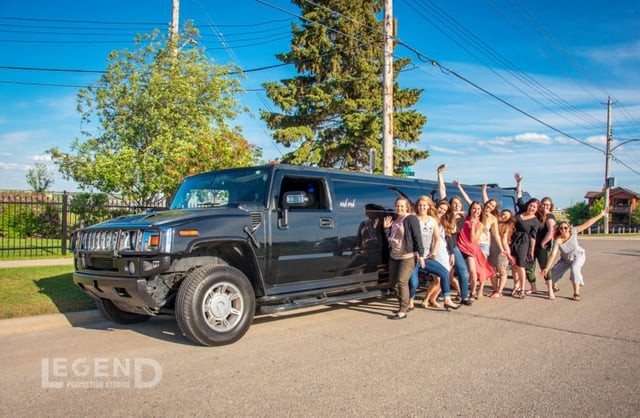 Every size and style of limousines are available with AM PM. All come complete with subtle leather seating, interior lighting that features the latest in illumination with LED or laser effects throughout.
From the stretch limos to the Hummer H2s, sound is one of the first things we are asked about with customers. Bring the music you want to listen to as every sound system in our luxury limousines is Bluetooth compatible.
Book a Limo Today!