Happy Party Bus Birthday to You!
by ampmlimo, on Aug 25, 2020 10:53:51 AM
It's your birthday! You're another year older and it's time to celebrate! Get all your friends and family on a birthday party bus and travel together, singing Happy Party Bus Birthday to you!
It's a Party Bus Birthday Party! Let's do this!
It's your birthday, or maybe the birthday of a dear friend. Forget the birthday card, it's a big day so celebrate it in a big way!
Whether you're turning ten or 110, there's a party bus for you and yours to have a worry-free, stress-free time.
Take the party bus to where you want to go, with the people you want to be with.
A party bus-load of birthday kids off to the grandparents, the zoo, sporting events, movies, to see the city or the country-side or just go to a special park area is such a memorable time with all kids experiencing things together. Sing the happy birthday song in the party bus before blasting some tunes for the kiddos on the amazing stereo system.
Teenagers are always looking for different ways to do things – a party bus rental as a gift goes a long way for your teen when they get to invite a particular group of friends to the party. Music at loud volumes is a huge draw for teenagers. Alcohol certainly does not have to be a part of renting and having a great party in a party bus.
Adults love the ease of a night out without the worry of driving (and finding parking) before searching for the group you are meeting up with. Take a party bus to get everyone to the same location, at the same time. There's no better happy birthday message on your night out than "enjoy the door to door service!"
Party Buses Have Become a Popular Way of Celebrating Birthdays and For Good Reason
With a party bus or party limo, you get a lot of benefits. You get to have your family and friends traveling with you. You get to have the music you want blasting out of the speakers. And you are not responsible for anything except having fun while getting to where you're going.
Or maybe you're using the party bus as 'the' location for the party – you wouldn't be the first.
Your birthday is the perfect time to get a small or large group together to travel in luxury surroundings, with great sound systems, and modern-tech LED lighting shows.
There is no stressing about who might be late or how everyone is going to get there. With a birthday limo or party bus, you can relax with your pals, leaving the driving to the professionals.
A party bus allows you to know that the music will be good as you and your guests bring what you want to listen to. Or, you can tell your guests you've got the music looked after, to make sure you get exactly the music you need for your birthday.
When alcohol is involved, is there a safer way to celebrate with a group? A party bus allows you and the number of people you have brought along with you, to get home safely.
What Kind of Party Bus for a Birthday?
A little bit of research will help in getting the right bus at the right time for the right price.
Luxury party buses come in a variety of sizes and shapes, from panel vans to shuttle buses, school buses, and SUVs large and small.
If you are looking for a luxury limo bus with leather seating, wall to wall lights, and monstrous sound, make sure you are getting what you want. There are some refurbished old, yellow school-buses being offered as party buses.
Not all party buses are the same with every company.
Planning Your Party Bus Birthday and What to Look For
Sizes and options vary with party buses from company to company.
How many are going and what kind of party is it going to be?
Are you using a party bus to get you from location A to location B? To drop you off at your destination and then be there for your ride home at the time you need?
Or, are you using the party bus for your mobile-party for an hour or more, that goes wherever you would like in complete luxury, with great sound and surroundings?
Check out the company's website and see what actual customers are saying about the ability to deliver great service and a great time.
Compare pricing and see if there's the ability for the company to offer any deals. Ask for a birthday quote!
How large is their fleet (you don't want to be the victim of a small company's overbooking)?
How old are the buses? In particular, the one you are looking to rent.
Can you see the party bus before you rent it?
(Note: if you are not allowed to view your party bus rental and are told, see it on the website, beware. This could be a company that does not own their own fleet and will rely on another company to fill what they cannot).
Are children allowed?
Not all party bus companies are licensed, so make sure to ask.
No underage guests are allowed on board when alcohol is involved, by law.
Most party buses come with full wet-bars and glasses, if they are needed, ask.
How Much Does a Party Bus Cost?
Costs vary depending on the size of the bus, style, date, time, and location. When you have all these details together, you can start calling and/or emailing for quotes. The average prices start at $175-$200 per hour for the small Mercedes mini party bus.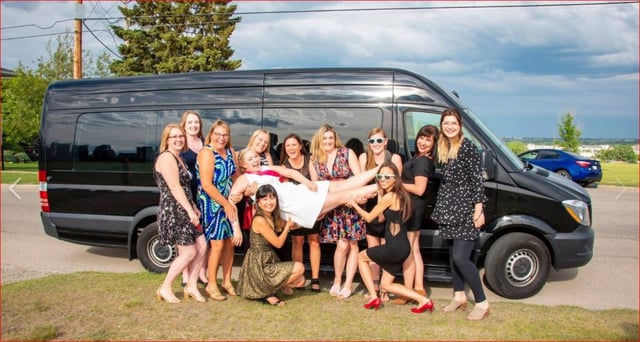 The next size up would seat 18-24 passengers, Ford E450, which starts at $249 – $300 per hour.

And the largest bus, Godzilla, seating up to 30 ranges from $289-$350 per hour. Discounted rates are available for multiple hour packages such as weddings, graduations, day trips.
With so many advantages to using a party bus for your birthday celebration, it's easy to understand how the party bus industry roared onto the scene and was a home-run hit right off the bat.
Look for:
A responsible company following all rules and regulations for your safety.
A reliable and well-maintained fleet of vehicles.
Professional drivers following protocol, doing their best to ensure your great time.
Even if your special day is not for a birthday, party buses are great for stags and stagettes, weddings, graduations, airport transfers, and anything else you can think of! Booking Calgary limo service or a Calgary party bus is great for any occasion.
Happy Birthday!