How Much Does a Wedding Planner Cost
by ampmlimo, on Aug 18, 2020 2:33:22 PM
Hiring a wedding planner can help make one of the biggest days of your life more relaxing and less complicated. Whether the bride and groom both work full time, have children, or just don't know where to start, hiring a professional can ensure everything comes together the way you want it to. But what exactly does a wedding planner do, what kind of questions should you ask, and how much does a wedding planner cost? You have come to the right place to find out!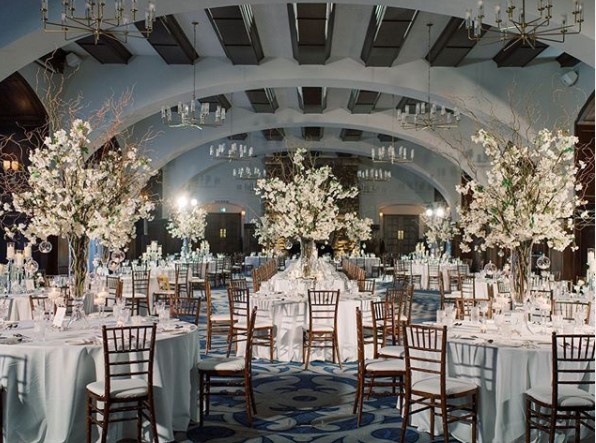 What Does a Wedding Planner Do?
A wedding planner assists clients in planning their entire wedding or specific wedding activities. They can provide vendor lists or negotiate vendor contracts on behalf of clients. They can help work out a budget for the wedding, set the timeline for the day, and be the voice for the soon-to-be newlyweds.
They can handle things the bride and groom don't have time for, like adjusting the temperature in the room at the reception. They can also help with stressful situations, like family mediation when there has been some miscommunication. A wedding planner will help ensure everything runs smoothly on the big day so that the bride and groom can relax and enjoy this special time.
Types of Wedding Planning Services
There are different types of wedding planning services available. Find the best one that suits your needs! Some of these types are listed below. Please keep in mind that different Wedding Planners will offer different service options, even if they fall under the same type of services.
Full-Service Wedding Planner
A full-service wedding planner helps with everything to do with your wedding. From the moment a couple decides to get married, the full-service wedding planner can start working with them to create their ideal wedding day. They can help make and track the budget, plan the design/colour-scheme, setting up ceremony and reception, organizing travel to and from locations, attend appointments on behalf of the couple, and oversee almost everything regarding your wedding and may even be in charge of booking the honeymoon.
Month-Of Wedding Planner
The month-of or partial planning services are an option for clients who want to plan the entire wedding on their own. Partial wedding planners typically start four or five weeks before the big day. They will gather the information on what has been planned and booked by the clients, help create the wedding day timeline, confirm final details and times with booked vendors, coordinate the day-of events and help with any last minute tasks.
Wedding Weekend Coordinator
Wedding Weekend Coordinators are a bit of a mix between month-of and day-of wedding planners. If your wedding has multiple events or will take place over multiple days, this type of wedding planning services might help you. They can help with greeting guests, organizing things such as your rehearsal dinner or other non-wedding activities and just keeping everything flowing on time.
Day-Of Wedding Coordinator
Day-of wedding coordinators don't actually start on your wedding day. They will likely start a few weeks before the wedding with a meet and greet, followed by some phone calls to touch base. Couples will still do all of the wedding planning, but the day-of wedding coordinator will communicate timelines with vendors, managing set up and takedown of decor, and keeping everything running smoothly and on time.
How Much Does a Wedding Planner Cost?
The cost of a wedding planner varies depending on the type of planning services you have chosen. Most charge a flat rate for service and then can add on extras to meet your specific needs. Rates vary starting at approximately $1200 for day-of coordination and upwards of $5000 for full-service wedding planning.
Once you decide what type of service you would like, you can start looking around to see what is available. If you are unsure what service type you want, ask the professionals when you call around to see what they offer and what they think you might need based on your plans for the day.
Questions to Ask Potential Wedding Planners
Are you available for the date needed?
What types of wedding planning services do you offer?
Can you work within our budget?
How many weddings have you planned?
Where do you provide service – will you help with destination weddings?
When working with clients, will it be only yourself or do you have a team?
Who are your preferred vendors?
Do you require a deposit and if so, how much is it?
Will you be with us on our big day?
How do you keep in touch with clients and how often?
You can ask your friends and family who they have used in the past as references from personal experience are always the best. Alternatively, we have compiled a list of some of the wedding planners in Calgary below. Contact them directly for pricing as costs vary depending on needs.
Fiore Fine Events is a wedding and event management company that specializes in day-of-coordination. They are set apart by the fact that they focus on the administrative and management side of weddings rather than handling the design portion of things.
Their day-of coordination package starts at $1250 with their most inclusive package starting at $2800. There are also add-on's available as well and all packages can be customized to your specific needs. They do have a list of preferred vendors but will work with any vendor you choose!
Blush and Co is a boutique wedding planning and design company that specializes in South Asain and Fusion Weddings. They are committed to creating refined and timeless events that incorporate both stylish and functional design elements. As a team, they pride themselves on producing authentic and memorable celebrations paired with amazing attention to detail and flawless execution.
At Blush and Co, they have the knowledge, passion, and resources to pull together weddings of all sizes and cultures, including multi-day traditional weddings. They offer four different packages that can be tailored to your requirements. Packages start between $2000 and $5000, depending on which package you need and what you may add on such a Honeymoon booking.
Melissa Alison Events provides full wedding planning, and primarily wedding day coordination for Calgary couples as well as Canmore and Banff. They help take the stress out of the wedding day so that couples can enjoy their big day. Offering wedding design, developing and distributing a master event schedule, coordination of vendors, timeline management, decor setup and takedown, and any overall assistance with any other planning needs.
The wedding day coordination package starts at $1500 with additional fees for larger weddings and/or travel to Canmore or Banff. Full day wedding planning packages start at $3500. They can also include honeymoon planning if that is what you are looking for.
They have vendors to recommend to you and will work with those you have chosen! The team at Melissa Alison Events believes in getting to know their customers on a personal level and take the invite to participate in your wedding day with genuine care and leadership.
Lynn Fletcher Weddings has a team of coordinators and designs with many years of experience in creating the perfect day for your biggest moment. With boundless enthusiasm of true romantics, they listen to their customers carefully, getting to know them in order to ensure their wedding day is a true reflection of who they are.
With many different package options with an a la carte add on, Lynn Fletcher Weddings creates customized packages for each client's specific needs. Offering full-service coordination, partial coordination, set-up and takedown services and decor and design packages, with prices starting at $1500. They will work with any vendor a client chooses, but also can provide a list of professional vendors that they have experience with.
With a passionate, dedicated attitude, the team at Lynn Fletcher Weddings genuinely cares about each couple's vision for their day. They are dedicated to translating the love between a couple into a one-of-a-kind day, with memories to last a lifetime!
At Kate Colman Weddings + Events they know what it takes for flawless execution and work diligently to ensure that nothing is overlooked in the planning process for your wedding. They will take care of the details so that you can enjoy your wedding party and celebrate one of the most incredible days of your life. They offer wedding management/coordination, partial planning and event design services.
Packages include support from the moment you book and start at $1200. Each package is customized for every client. They have a vendor list to help you with planning and will also work with new vendors of your choosing. Kate Colman Weddings + Events has over 10 years of wedding planning experience and will work with the bride and groom to ensure that the entire process is as relaxed and stress-free as possible.
Impeccable Events Calgary has been in business for a little over two years and has a large, hand-picked list of top-rated vendors to ensure the highest quality and standard. They offer full wedding planning, day-of coordination services and event styling.
Packages range from $2300 to $4000, depending on the type of service you need and any add-ons you would like. They have a list of verified vendors that they will recommend to the bride and groom but are open to working with any vendors chosen. Impeccable Events strives to do just that, create an impeccable day to remember for the rest of your lives!
Some Other Local Planning Companies to check out are:
Wedding planning takes a lot of work and involves a variety of different services. You might be in need of transportation services, looking for wedding photographers, a photobooth, wedding apparel services, a venue, a DJ service, delicious wedding cakes or need help choosing a catering service. Look for local companies and get pricing from more than one place to help you find exactly what you are looking for!