How to Plan a Bachelor Party (or Bachelorette Party)
by ampmlimo, on Aug 17, 2020 3:22:47 PM
Everyone loves attending a stag/stagette, but few appreciate the work that goes into planning them until they become the best man or maid of honour. Then all of a sudden, you're worrying about things you never thought you would, like:
Who should I invite?
What activities are appropriate?
How much money should we spend?
How do I make sure the stag/stagette doesn't go off the rails?
How does anyone get all these people to agree?
To help you find your way through all those questions, we talked with Jonathan from Carte Blanche, a bachelor party and bachelorette party planner, who works with best men and maids of honour across Western Canada to simplify the planning process and ensure every stag & stagette, bachelor & bachelorette has a memorable night with minimal planning stress.
We've compiled tips on how to plan your first bachelor party to make sure your best friend gets the party they deserve.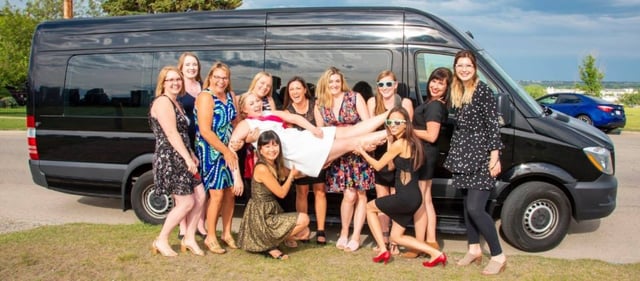 Start planning the bachelor(ette) party early
Some things you can throw together on a moment's notice, like a night on the town or a girls' night out, but a bachelorette/bachelor party isn't one of them. You're wrangling together a group of grownups, each with their own lives, plans and ideas for the night – and that will always take a lot of time.
You should start the planning process at least three to four months early. However, if you've chosen to have the party during a busy time, like the Calgary Stampede, you'll want to start even earlier. In that case, we recommend starting the planning process four to five months early so you can get your reservations in three to four months before the date.
Consult with the bride or groom, then keep them in the dark
Traditionally the stagette/stag party is something of a surprise, but that doesn't mean you can't ask the bride/groom what they want – it is, after all, their party.
This step will make sure you don't go too far with your party shenanigans, and ensure you can tailor the day to his/her desires.
So, grab your friend, sit them down and ask them a few questions before diving headfirst into planning.
The question list for the bride/groom:
Who should we invite?
Is there anyone who might be uncomfortable with drinking/nudity/general carrying on?
What activities are high on your must-do list?
What do you not want to do?
What will get you in trouble with your soon-to-be significant other?
Nail down the guest list
This is where things start to get tricky. Deciding who to invite, and who not to, can be a painful process. Obviously, the wedding party should be invited, and everyone on the list the bride or groom gave you should as well. But, as the planner, you need to be aware that too many or too few will cause headaches.
However, maintaining transportation between events is never a problem!
Our fleet of licensed limos and

party

busses can seat anywhere from 2-30 guests, allowing you to invite more friends and continue the

party

on the road.
But, it's more than numbers you have to be aware of.
If your groom wants to invite friends and family that don't know each other, it will really change the dynamics of the group. The good news is, not everyone has to come to every event.
This can work two ways:
The one-day split event – Split the guest list into two parts, the day crowd and the night time crowd. Then, you include everyone on those tame-but-still-fun daytime activities (like a round of golf and a steak dinner) then transition to wilder events after Uncle Joe has gone to bed.
The two-day event – Much like the one-day split, the two-day event features two separate guest lists, only the 'night' portion of the

party

can last longer, as it will happen on the evening of day two.
Set the stag/stagette budget
The only hard rule when it comes to money is that the guest of honour pays for nothing. The only thing that should come out of their wallet is their ID. Because the costs are shared, each guest will want to have a say in the night's budget.
This is one of the most difficult hurdles for planning a bachelor party.
One friend may be ready for a blowout, while another may be stretching their funds just by showing up. It's up to you to somehow bridge the gap.
By setting your budget early, you can ensure things don't spiral, leaving guests with a wallet hangover, or worse, keeping them from joining the party.
$100 per person for a cost-conscious

party

with shorter activities
$200 – $300 per person for an average

party

with more/longer activities
Over $350 – $500+ per person for a no-expense-spared

party
*Please note, these budgets do not take into account each guest's alcohol consumption, which is up to them, or the guest of honour's drinks.
Pick a date
The general rule is to schedule the stag/stagette party somewhere between a week to a month before the wedding.
But, be prepared, because nailing down that date precisely is going to be a headache. In fact, it's the other big hurdle you have to jump.
Everyone will have a million things going on, and the guest of honour will likely be in the middle of wedding planning. So, to help you get rid of endless email chains discussing dates, we've compiled a quick list of 5 of the best meeting scheduler apps you should be able to re-purpose to schedule your infinitely-more-fun-than-a-meeting party.
Apps to help arrange the date for your bachelorette or bachelor party
Pick party locations & activities
Everything up to this point has been foundation-building – now we get to the heart of the event, the real excitement. Party planning the bachelor party destination! By this time you'll have some input from the groom/bride and too much from everyone who is attending, so you are ready to make the big, fun choices.
So where do you start?
The one thing that's essential for a stagette/stag is to plan at least one activity that takes the bride/groom out of their comfort zone. That can be anything from white water rafting to something a bit more exotic. (Make sure you get the bride/grooms permission before throwing out some of the more wild bachelor party ideas.)
But, you also have to consider less fun aspects like your budget, age/group appropriate activities, your timeline, and ensuring safe travel between activities so the party never stops.
To help you keep all your party ideas straight as you cross your T's and dot your I's, you can roughly chop up activities into four different categories:
Daytime activities
Dining
Transportation
Nighttime activities
Find your daytime activity, like golf or axe throwing, add a dining option, and some transportation to your nighttime activities, and you'll have a great party.
But, if you need some more inspiration for party ideas, here are some of the top options.
Top bachelorette party activities:
Scavenger hunts
Pole dancing
Spa treatment
Night Club Bottle Service
Drag Show

Party

Bus
Wine tasting
Themed

party
Check out our other bachelorette party ideas on our Ultimate Bachelorette Party blog post.
Top bachelor party activities:
Axe throwing
Combat archery
Pub crawl
Golf
Shooting Range
Limo rental
Strip clubs
Whiskey tasting
Check out our other bachelor party ideas on our One Last Wild Night: How to Plan a Stag/Bachelor Party in Calgary blog post.
Arrange for travel before, during and after the stag/stagette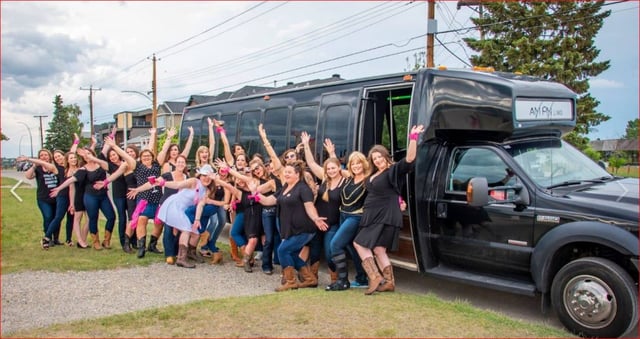 Obviously, we love limos and party busses (and we'll cover those here), but this is more than just a pitch. If you plan to get wild, don't make someone drive. Either they won't get the whole experience (whether they choose to partake or not) or it's going to get dangerous.
By handling the transportation ahead of time, you can keep the party going between venues and avoid the dreaded lull that can kill the energy of your whole party.
One great way to keep the energy going is to plan games you can take on the road between activities. This is easiest when you can keep the whole group together in a single limo or party bus.
With an AM/PM Limo, you get a vehicle certified by the AGLC, which means everyone can drink in our licensed vehicle. With our limos and party buses you can:
Drink between venues
Leave belongings, coats and drinks in the vehicle during events
Stay responsible with a professional driver
Book a party bus or limo for:
Typically a limo rental cost in Calgary shared between 12 people can range from $10-$15/person, with discounted rates available for rentals longer than 3 hours. That can mean getting picked up at the restaurant or club for a one-time trip through the city to your final destination, or the use of the limo for the entire day, from picking up attendees wherever they are staying to dropping them off at the end of the night.
The Party Bus rental cost in Calgary shared between 12 people can range from $15-$20/person, with discounted rates available for rentals longer than 3 hours, with everything from a single trip, to a night-long party on the move available.
Whatever you choose to do, just make sure the group's not sitting outside some restaurant, kicking their heels while you're trying to find three Ubers that are close enough that you'll get to the next venue together and in time.
Decide on stag/stagette social media etiquette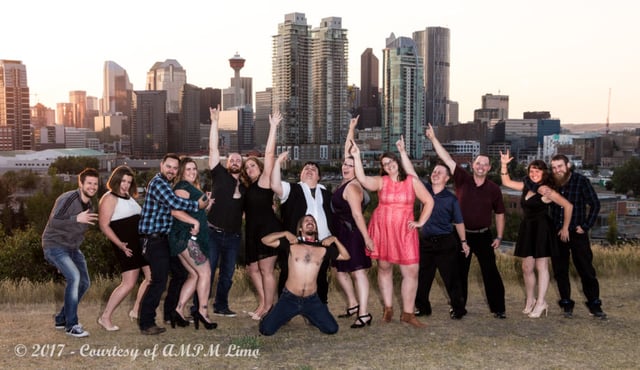 For some people, the wrong picture could negatively affect their job, or family relationships, others may not care as much. However, all it takes is one wrong picture to get out, and the former will start to feel the heat.
A good rule of thumb to avoid that is: anything done under the sun is fair game for social media, but when darkness comes down, the phones should too.
Make sure all guests are on the same page, and if you see someone's phone come up after the sun is down, make sure to touch base just to make sure.
Make sure there's a designated leader for the bachelorette/bachelor party
If everyone parties like crazy, there's a good chance everything is going to go off the rails, making it a night the bride/groom wants to forget, instead of one to remember.
Traditionally, the person in charge should be the best man/maid of honour – that means pacing yourself, herding the crowd, and reading the room to decide if a certain activity is falling flat and you need to push on to the next, or whether you should stay and let everyone enjoy themselves.
But it doesn't have to be. If there's someone in the group who doesn't drink, they may be a better choice for the leader (as long as they're still going to enjoy themselves). If you have a large budget, and no one wants to take responsibility, you can also hire a party host/hostess.
The solemn duty of planning a stag/stagette party
Planning the bachelor or bachelorette party is one of the solemn duties of the best man/maid of honour. This is your chance to celebrate one of your closest friends by treating them to the night of their life and give them a break from planning their big day. By running through the steps above, you'll be able to plan the party you want, and the one your friend deserves.
So, this is the last tip we'll include here: be confident. As long as you've got the bride/groom and friends, it'll be a great stag/stagette.
Author Grub Street Writing