Limousine and Party Bus Service
by ampmlimo, on Aug 17, 2020 2:27:37 PM
When you want or need a limousine and party bus service for your event, no matter how big or small, AM PM Limousine & Party Bus has locations in Calgary, Edmonton, and Lethbridge while servicing all of Alberta.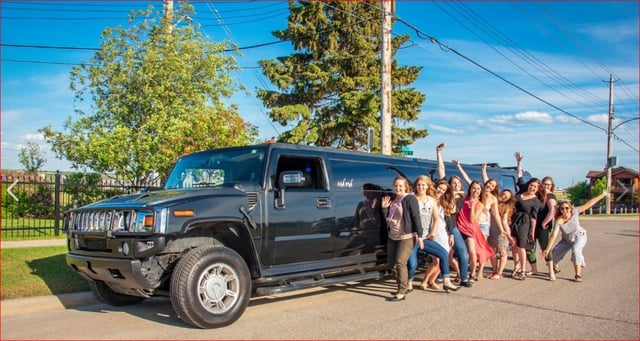 Starting with one stretch-limousine back in the day, today, AM PM Limousine & Party Bus has a fleet of over 30 modern, full-on-luxury party buses, SUV limousines, and classic stretch limos.
With the largest fleet in Alberta, AM PM Limousine & Party Bus has had the honour of serving thousands upon thousands of customers over the years. Thank you.
AM PM Limousine & Party Bus strives for customer service excellence.
From your first contact with us via email, phone, or text, to the last dropped-off customer, the team of office staff, vehicle detailers, mechanics, and our wonderful drivers, are behind you.
Word of mouth limousine and party bus recommendations
Customers who have used the services of AM PM Limousine & Party Bus, hold the ultimate say.
Your continued support has given us the opportunity to become the largest provider of luxury limousines and party buses in Alberta. We salute you.
Like any business today, not all of our reviews are positive, we have made mistakes and do try to make right for those unhappy with the service. The vast majority of AM PM Limousine & Party Bus customers are satisfied and a great many of them return/recommend our service.
Thank you Alberta
The overwhelming support we have from Albertans that have used our service is humbling.
We thank all of our AM PM Limousine & Party Bus drivers. As the face of our company, tending to you, your customers, and your event, they are the main reason for so many great reviews.
Let the experts speak
Here are just a few thoughts from some of our customers using our service.
(All of the following reviews can be found on our Facebook and Google pages)
AM PM Limousine & Party Bus is nothing without our customers.
There really is no 'typical' with a limousine or party bus rental. Just like each customer, every limo or party bus rental is somewhat unique – you make it what it is.
"I can't speak highly enough of this company! Had the pink Dodge Ram limo for my birthday, it was even better in real life!! Pictures don't even do this amazing car justice! The lights, the seats, the bar… Everything was immaculate, inside and out. Our driver Wanda is literally the cutest human I've ever met
She knew just where to drive us for some good photo ops, and when my friend accidentally left her wallet in the limo, Wanda personally dropped it off to her the next day. I seriously cannot wait to use this company again!
do yourself a favour girls, and get this limo!!"
Tania C.
THE RIGHT PRICE, THE RIGHT LIMO, THE RIGHT SERVICE
"After getting quotes from every limo service in the city, AM PM gave me by far the best price, and the money was very well spent. The car arrived right on time, and our driver made the night all the more fantastic by taking us to hidden scenic photo spots and snapping some great shots. The car was pristine and the drinks cold, and our driver even extended our ride by a few minutes so we wouldn't have to wait for our dinner reservation.
Our driver really made the night special; she was very friendly and professional! The ride was the highlight of the evening and AM PM did an exceptional job making the ride memorable. Top notch service."
Kevin B.
CALGARY AIRPORT TRANSFER TO BANFF
"We booked a sedan from Calgary airport to Banff Springs Hotel. Our driver Jonn Jensen was waiting for us at the airport even though our flight was delayed two hours. Our flight actually came in at midnight, he waited for us and took us to the hotel.
I would definitely recommend AM PM LIMO to everyone and especially John Jensen he has great knowledge of the Rockies.
Great service all around

"
Elizabeth S.
A HAPPY, HAPPY BIRTHDAY WITH A PARTY BUS
"Thank you so much for making my birthday party everything I could have wanted and more! Our driver showed up early and ready to go with a party bus that was twice the size of the original one we had booked! It was a huge unexpected upgrade, because apparently the original one had been delayed.
AMPM really made my night, and I can't thank you enough! Will definitely be booking with you guys again in the future!"
Kelsy G.
PINK DODGE RAM STRIKES AGAIN
"I have had a couple experiences with AM/PM Limo for both a stagette party and a birthday party. Had the pink Dodge Ram Limo for both occasions. The limo is eye catching and beautiful both inside and out. The drivers we had both times were friendly, helpful and courteous. The lookouts for photos were different each time and the drivers were patient to allow the time to walk around and take photos.
The booking process is easy, especially if you get to book through Carrie – she is very friendly, funny, knowledgeable, has amazing customer service skills and makes it an easy process. I would recommend AM/PM Limo to anyone looking for limo or party bus services. I will definitely use them in the future
".
Crystal F.
CALGARY TO PANORAMA, SAFELY
"We booked with them to get us to Panorama… Adam our driver was exceptional… we felt very safe the entire time…. he drove us both ways … Highly recommend this company as they are very organized and reliable."
Dalal K.
"Big shoutout to AM PM Limo! They are great community supporters.
McKnight Peewee 5"
THROUGH SLEET, HAIL, SNOW, THE SKIING MUST GO ON
"We booked a Dodge Ram Limousine out to Sunshine Village for a ski day, it was a great way to transport 10 passengers with ski gear and snowboards. The service was great and our driver did a great

job driving on dangerous road conditions.
Definitely recommended."
Happy Skier
"Francois was awesome! Way better than trying to organize Ubers for everyone. Super comfortable, clean and timely. Francois was super accommodating and helpful."
Kya F.
"We hired AM PM for our Canmore wedding a month ago and they were so nice and professional for both planning and the day of. Their rates are super reasonable. Our driver was the best, super friendly and so accommodating. The limo was clean and all shined up, they even had it decorated for us without asking and it came with a bottle of champagne. Would definitely hire them again!"
Rebecca W.
Thank you to all who take the time to review and rate our services. It is greatly appreciated.
When you're ready for the ultimate in pampering or if you just need transportation that isn't going to break the bank, AM PM Limousine & Party Bus is ready for you and your adventure. Whether it's for a bachelor or bachelorette party, airport limo service, graduation, wedding limo package, or a birthday celebration, AMPM Limousine & Party Bus will be there for you.
With a variety of vehicles, the largest fleet in Alberta, friendly customer service and professional drivers, and amazing service, you are in for a treat!