Renting a Party Bus in Okotoks
by ampmlimo, on Sep 4, 2020 1:39:11 PM
AM PM Limo & Party Bus has been servicing Okotoks and area families and businesses from their very beginning, over 12 years ago. Renting a party bus in Okotoks has never been easier.
AM PM Limo & Party Bus Okotoks gives customers the choice of the newest and largest fleet of luxury party buses in Alberta.
From the 16-passenger luxury Mercedes-Benz Sprinters, 24-passenger Party Buses that feature great viewing with huge windows all around, to the 30-passenger Godzilla Party Bus to take your rental to another level.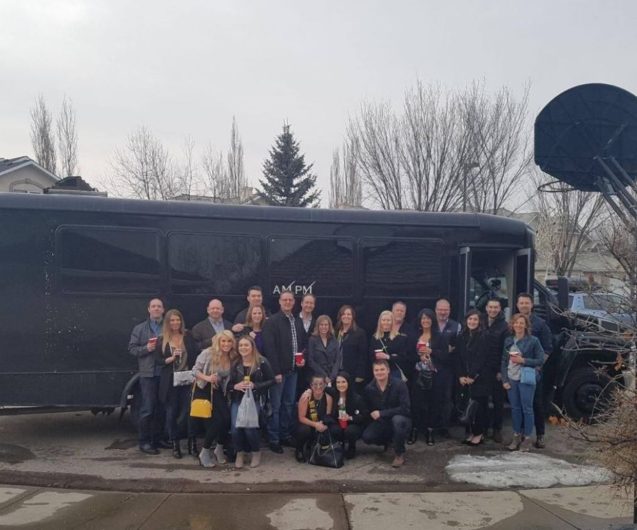 How Much Does a Party Bus Cost in Okotoks?
AM PM Limo & Party Bus rentals offer the lowest prices in Alberta. Guaranteed.
If you think you have a better price for the same as we offer, let's talk. It'll be worth it.
Special rates are available for out-of-town/over-night/or multiple-days trips.
16-Passenger Luxury Party Bus: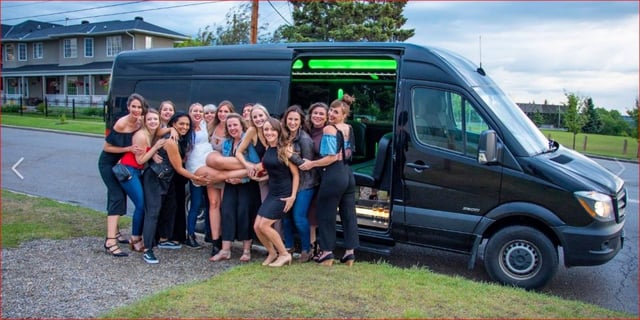 At a capacity of 16 passengers, from $12.50 to $15 per person, per hour.
24-passenger Luxury Party Bus: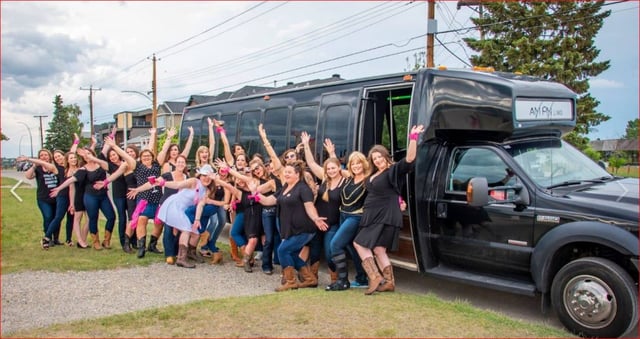 At a capacity of 24 passengers, from $12.50 to $15 per person, per hour.
30-passenger Luxury Party Bus: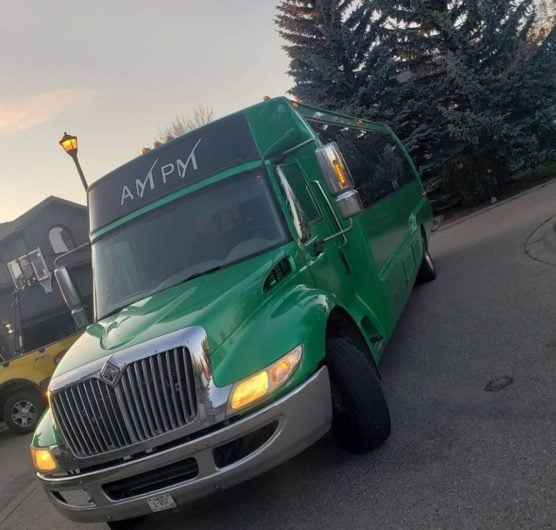 At a capacity of 30 passengers, from $11 to $13.50 per person, per hour.
Is Drinking Allowed?
Alcohol is permitted providing everyone in the party bus is of legal age.
All of AM PM's party buses come supplied with wet-bars, ice, and ice-storage, glasses or cups, and napkins.
Or, what would you like to have prepared in an Okotoks party bus?
Yes, non-alcoholic beverages are allowed too (ha-ha).
What Am I Getting When Renting a Party Bus in Okotoks?
AM PM Limo & Party Bus owns and operates their entire fleet of party bus rentals here in Calgary. We do not take your order and fill it with another company.
You will get what you ordered with plenty of communications to get it right.
Our party buses are of the luxury kind. Leather seating, music, lights, and accessories for fun and not old refurbished school-buses.
OKOTOKS; SMALL-TOWN, BIG ROCK
A beautiful, exciting, quality of life location. Named one of the best places to live in Canada.
Okotoks has so much going for it as Alberta's largest town. The population limits had to be redefined a couple of times, to accommodate the many who want to plant roots here.
It's easy to see why Okotoks is a wanted place. A community so committed to watchful growth and environmental stewardship, and making sure it lives up to its own expectations as a family and business destination.
Rock-on Okotoks, after-all, Okotoks in Blackfoot means 'rock'.
Where to Go With an Okotoks Party Bus
Okotoks party bus rentals with AM PM Limo & Party Bus are ready, willing, and able to take you and your group wherever you want to go!
Big Rock Erratic – Daycares, kindergarten & school classes, family, and friends.
Birthday celebrations – However you want it done.
Weddings – A trend is shaping-up with the convenience of party buses for Weddings.
Showers – Bridal or Baby Showers take on a whole new level of your kind of fun.
Bachelor/Bachelorette Party – Need we say more?
Sports Events – Please, please let us witness sports live soon! Put me in coach!
Anniversaries – whether black-tie or tie-dyed, the intimacy of your people together.
Girls or Guys Night Out – Getting picked up and dropped off at a favourite place, or better yet, using the party bus as your own mobile party.
Corporate Events – Whether office-to-office or course-to-course or out of town.
Theme Parties – Another popular trend from Star Wars to Pirates.
Family Events – Nice to keep everyone as close as possible.
Golf Outings – local courses; Rivers Edge, D'Arcy Ranch, Crystal Ridge or out of town.
Airport Transfers – If you need limo service to the airport, we will take you and your luggage there!
Okotoks Party Bus Ski or Golf Trips– Out of town to any of the dozens of locations from southwest Alberta and further south to throughout southeastern British Columbia.
Party bus rentals are best for ski or golfing groups looking to move people and equipment, yet keep together as one in a wonderful environment.
Tune-up on the way with your music, great lighting, and refreshments with friends or family.
In complete luxurious leather surroundings.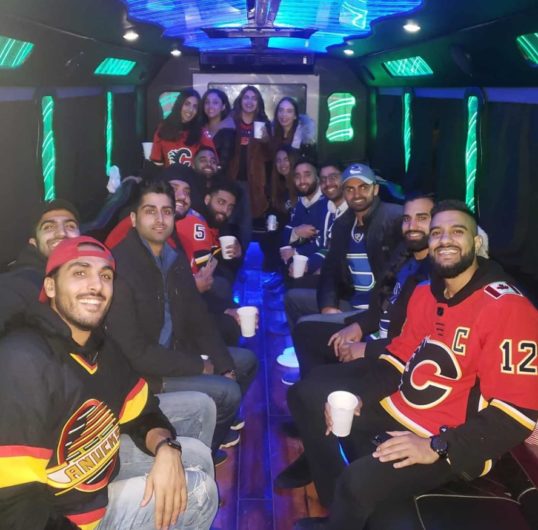 Any Special Occasion or Event
Give your group the ability to store their stuff and a place to be and meet-up after.
Everybody is together and (hopefully) accounted for.
Whether you plan to party around Okotoks in your own special way, or if you decide to get on the move and hit Cowtown, new memories await you in an Okotoks Party Bus.
With professional chauffeur service, a luxury fleet, and the best prices around, AM PM Limousine & Party Bus is ready to meet you in the town of Okotoks and provide you with top-notch service!