Wedding Venues in Banff and Canmore
by ampmlimo, on Aug 17, 2020 1:36:18 PM
The search for the perfect wedding venue in Banff and Canmore can feel overwhelming at first. After all, this is going to be one of the biggest days of your life. Choosing the right location happens now, yet memories, photos, and videos to look back on will be for years to come.
Whether you are interested in Banff outdoor wedding venues or an indoor wedding ceremony in Canmore, we have listed the best options for your big day here!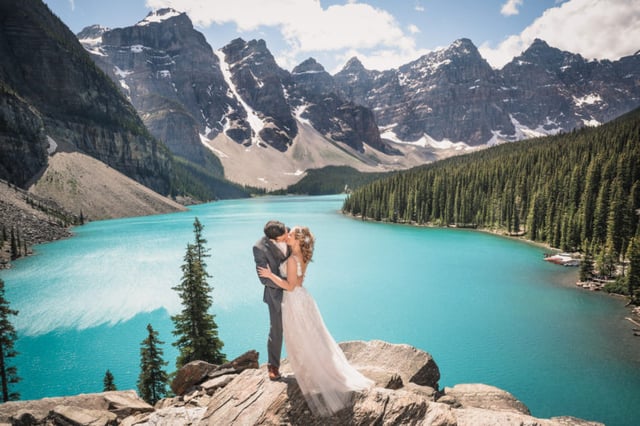 Your choice of venue will have a lasting impression for all who attend. Say "I do" in the perfect wedding venue for you!
Types of Wedding Venues
There are different types of wedding venues to choose from. There are hotels, conference centres, banquet halls, country clubs, community centres, restaurants, barns, and many more. You will also need to consider if you will have your ceremony and reception at the same location.
You might want the ceremony in a house of worship and the reception at a country club. Perhaps you would prefer a venue that can hold the ceremony and reception for a larger gathering. No matter the type, you will want to find the right style for your theme and taste.
How Much Does a Wedding Venue Cost?
In Banff and Canmore, wedding venues average between $5000 and $15000. Keep in mind, you are paying for premium locations with Banff, Canmore, and the surrounding area.
However, wedding venue costs are impacted by a variety of factors such as location, date, type, size, length of time, and what's included. If you are looking for a casual, cocktail reception, the price will differ from a sit-down dinner. The guest count will impact pricing as well. Some small room rentals (with no additional services) can be as low as $3000, with some venues reaching $20,000 in cost.
Questions to Ask Potential Wedding Venues
You should nail down your budget first before searching for a wedding venue. This will make things a lot easier. Here are some questions to ask potential venues in Banff and Canmore:
Is there availability for the date of my wedding day?
Where can you find photos/videos of the venue?
Who will be the main point of contact?
What time can you start and what time will guests need to leave the venue?
Do they have vendor restrictions?
Can they provide a shuttle service?
Are there any setup/takedown services available?
How much does is the total cost?
Is a deposit required?
When do you need to book by?
You can ask your friends and family who they have used in the past as references from personal experience are always the best. Alternatively, we have compiled a list of some of the Wedding Venues in Banff and Canmore below. Contact them directly for pricing as costs vary depending on needs.
Banff Lodging Company
Banff Lodging Company holds approximately 50 weddings per year throughout four wedding venues. They have options for 10 – 120 guest capacity and can hold both ceremonies and receptions at all venues. They provide clients with a list of approved vendors with all food and beverage services provided directly by the hotel. They have many packages to choose from with discounts offered on a space availability basis.
Canadian Rocky Mountain Resorts
Canadian Rocky Mountain Resorts have three properties; Buffalo Mountain Lodge in Banff, Deer Lodge in Lake Louise, and Emerald Lake Lodge near Field, BC. They host too many weddings to count and are busy almost every weekend of the year and many weekdays as well! Capacity varies depending on the venue with Banff accommodating 99 guests, Emerald Lake accommodating 88 guests, and options to rent entire properties for an event of up to 150 people.
You can view photos and read stories about all three locations online. Canadian Rocky Mountain Resorts typically host both the ceremony and reception as well as on-site photos as their locations are so picturesque!
Costs vary based on wedding size. They do elopement weddings up to larger 100 person weddings. Costs are discussed directly with their team. They also offer a list of wedding vendors in their wedding packages, which are available online.
Canadian Rocky Mountain Resorts provide all food and beverage services for weddings, including wedding cakes! Pricing is flexible and varies by demand. You can take advantage of lower prices by booking in the quieter season from October through May.
Silvertip Resort
Silvertip Resort hosts approximately 75 – 100 weddings each year with a max capacity of 180 people available. You can view photos of the space on their website as well as social media platforms. You can hold both receptions and ceremonies here as they have an outdoor summer ceremony location as well as an indoor winter location. Silvertip is a perfect Canmore Wedding ceremony location!
Silvertip Resort offers a list of recommended vendors but you can also bring in your own. All food and beverage must be supplied by Silvertip Resort, with the exception of the wedding cake.
Room rental and food and beverage minimums vary depending on the season, month, and day of the week. You can get better pricing during weekdays and off-season. Contact directly for all price inquiries.
Cornerstone Theatre
Cornerstone Theatre is located in Canmore Alberta and hosts between 150 and 160 weddings each year. Their venue can accommodate up to 200 guests.
Cornerstone Theatre provides a blank canvas to create your own unique style for your wedding. They offer indoor spaces for ceremonies and receptions. They also have an exclusive arrangement with the Canmore Ranch and can hold outdoor ceremonies with them.
The rates vary depending on the time of year you need to book and you can see all necessary info on this on their website. You can use any vendor you wish, however they can also provide a list of trusted vendors upon request.
Cornerstone offers food service, bar, and bartending services, and an in-house DJ. While you can bring along your own DJ, all food and bar services are provided by the venue. There are different rates for weekends and weekdays and you can find this information on their website.
Other Hotel Venues in Banff/Canmore/Lake Louise
Wedding planning takes a lot of work and involves a variety of different services. You might be in need of transportation services, looking for wedding photographers, a photo booth, wedding apparel services, a DJ service, Wedding Venues in Calgary, delicious wedding cakes or need help choosing a catering service. Look for local companies and get pricing from more than one place to help you find exactly what you are looking for!