How Much Do Wedding Cakes Cost
by ampmlimo, on Aug 3, 2020 12:56:22 PM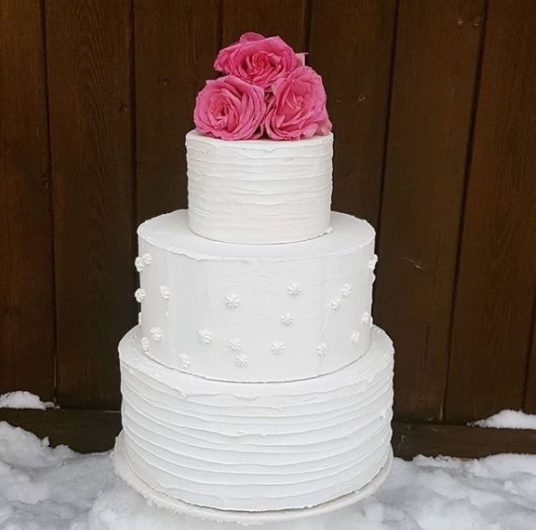 Wedding Cakes are a traditional cake served at wedding receptions, typically served after the dinner. Wedding cakes have been around in some form or another for centuries. Fun fact, modern-day wedding cakes as we know them originated in 1882 when the first completely edible wedding cake was created.
But how much do wedding cakes cost? Where do you go to find one? What questions should you ask? You have come to the right place to find out!
How Much Do Wedding Cakes Cost?
When budgeting for your wedding cake, keep in mind that the average wedding cake cost is about $500. However, wedding cake costs vary depending on several things. Labour spent on custom designs, delivery, set up and location, fillings, flavours, and size of the cake are all things to consider when making your budget.
Specialty cakes and carved cakes require more time for designing, structuring, and decorating and will add to your cost. Dietary restrictions may cost more as well.
Questions to Ask Wedding Cake Companies
Some ideas of things to ask potential wedding cake companies are as follows:
Are they available for the date needed?
Where do they offer service and are delivery and set up services available?
Can you design custom cakes or do customers chose from set designs?
What flavours and filling options are there?
When can you set up a tasting?
Who will make the wedding cake?
Do they offer cakes for dietary restrictions?
Will you preserve the top tier of the cake for my first wedding anniversary?
How much does it cost and how much is the deposit?
You can ask your friends and family who they have used in the past as references from personal experience are always the best. Some Wedding Planners also have recommendations. Alternatively, we have compiled a list of some of the Calgary Wedding Cake Companies below.
Contact them directly for pricing as wedding cake prices may vary.
Black Dog Bakery
Black Dog Bakery has been making wedding cakes for 4 years and average 15 – 20 cakes between May and October. They never double book wedding dates so once you book, that day is 100% yours! They provide delivery and set up for all cakes with a flat rate charge of $50 within Calgary. Delivery is available outside of Calgary as well with the rate based on mileage.
They do offer gluten-free options, however, they are not certified as 100% allergen-free in their kitchen and those with severe allergies should be advised. Black Dog Bakery offers digital cake tastings and consultations.
You select 4 flavours of cake you would like to sample from a menu and they deliver them to your home. After that is an online consultation where customers discuss many things, such as the budget, favourite flavours, design and options to perfectly fit your day. Consultations can be booked online and the cost is $60, ($75 for gluten-free) and lasts approximately 40 minutes.
Should you choose your cake with Black Dog Bakery, $30 from the consultation will go as a credit toward your cake. Wedding Cake costs vary depending on the size of cake, flavour and amount of detailed work needed. Your consultant will offer you quotes and options to help create the perfect design for your budget. They will also use any cake topper piece you prefer!
Yvonne's Delightful Cakes
At Yvonne's Delightful Cakes they are passionate about cake making. Their custom cakes are baked using only fresh ingredients and made to the highest quality. To create the perfect wedding cake, they will incorporate their clients' ideas and themes, highlighting what is most important for each customer.
They create cakes to reflect a client's personality and be the centrepiece at any event. In the last 4 years, Yvonne's Delightful Cakes has made over 500 wedding cakes!
They offer delivery in Calgary and surrounding areas. They offer a variety of cakes with dietary restrictions including gluten-free, dairy-free and vegan. As cake tasting is a big part of the wedding cake selection process, they try to book cake tasting early in the process.
This is because a lot of cake designs are affected by the flavour and filling options chosen. Prices vary depending on the size of the cake, design, flavours, etc, so they will work closely with clients to provide options for each budget! Custom cake toppers or memorabilia can be added as well.
Here is a list of some other vendors:
Swirl Custom Cakes & Desserts creates their Wedding cakes in Calgary at their commercial kitchen. They offer delivery for both in and out of town for a fee. Everything is made fresh for your special occasion. Book a cake tasting to try out their exceptional desserts for your big day!
8 Cakes passion is elevating classic desserts and creating elegant masterpieces that will engage the senses. Their standard 6" cakes start at a base rate. Fondant work, sugar, fresh flowers, cake toppers and any custom design elements are extra. If you are looking for custom cakes in Calgary, give them a call!
Wedding planning takes a lot of work and involves a variety of different services. You might be in need of transportation services, looking for wedding photographers or need help choosing a venue. Look for local companies and get pricing from more than one place to help you find exactly what you are looking for!